Business results of "Kyrgyzinstrakh" IJSC for 2015
Financial and economic indicators of our insurance company testify rather successful activity. Basic financial indicators of "Kyrgyzinstrakh" IJSC for the year 2015 considerably exceed indicators of the last year.
In the reporting period the company has concluded about 6,1 thousand of insurance agreements on obligatory and voluntary kinds of insurance.
Volume of collected insurance premiums of the company amounted to 513,6 million KGS, that is in the total volume of payments received made up 55% among 17 insurance companies of the Kyrgyz Republic.
Thus, "Kyrgyzinstrakh" IJSC continues to maintain the leading position in insurance market of the Kyrgyz Republic.
Portfolio structure of the company looks as follows:
- property insurance – 429,2 million KGS (83.5%);
- liability insurance – 36,1 million KGS (7%);
- personal insurance – 10,4 million KGS (2,1%);
- obligatory kinds of insurance – 37,9 million KGS (7.4%).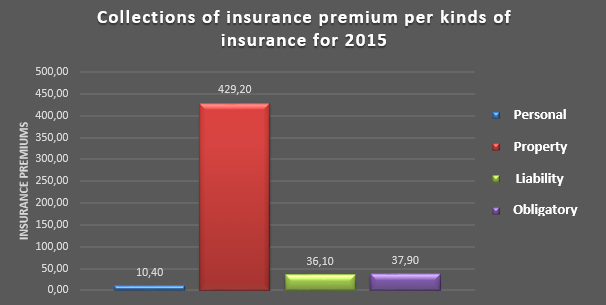 Security level of the insurance portfolio made up 86.7% by means of assignment of risks to reinsurance for the purpose of solvency and financial sustainability ensuring of the insurance company.
"Kyrgyzinstrakh" IJSC carries out accepted commitments against its clients in a timely manner. Thus the company accomplished payments of insurance indemnifies to the amount of 10,2 million KGS for the year 2015, including:
- in personal insurance: 2,1 million KGS;
- in property insurance: 6,5 million KGS;
- in liability insurance: 1,6 million KGS.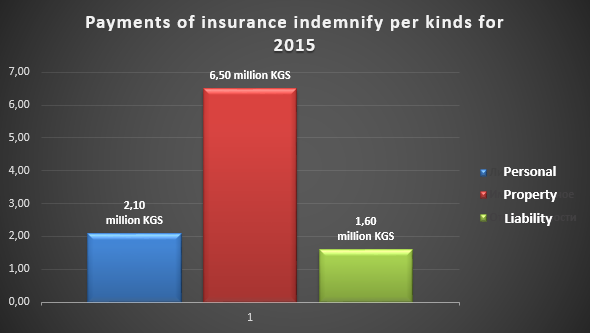 Settlement of commitments against the clients confirms high solvency of the organization, effective system of risks reinsurance and efficient management, carried out by the company.
"Kyrgyzinstrakh" IJSC holds rather active existential position in development of insurance filed of the country. Thus, our company assigned about 34.7 million KGS to the state budget in 2015.