Reinsurance – worldwide practice when an insurance company reinsures its risks in other organizations to ensure its liabilities against insured persons in full volume.
Solvency and stability of work of insurance company can be evaluated as well by companies – reinsurers, which work with it.
Protection level of insurance portfolio by means of assignation of risks to reinsurance for the purpose of guaranteeing solvency and financial stability of "Ingosstrakh" IJSC made up 86,7%: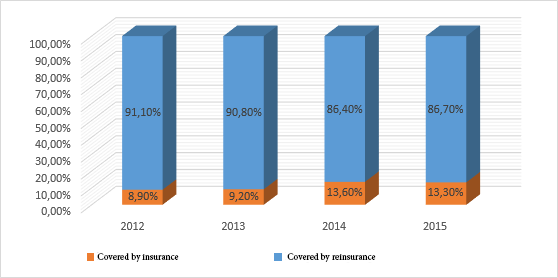 "Ingosstrakh" IJSC reinsures its risks in such worldwide known companies, as:
"Ingosstrakh" IPJSC;
"AlfaStrakhovanie" OJSC;
"Russian Insurance Center" IOJSC;
"Ingosstrakh" CIJSC;
"INGO-Uzbekistan" IJSC;
"Kazinstrakh Company for foreign insurance" JSC;
"London-Almaty" Insurance Company" JSC;
"Kommesk-Omur" Insurance company JSC;
"European Insurance Company" JSC.
Allianz Group of companies;
Willis Insurance Brokers Group of companies;
Marsh (Insurance brokers) Group of companies;
AON Group Group of companies;
Malakut Insurance brokers Group of companies;
Zurich Insurance Company Group of companies;
FM Global Insurance company Ltd;
AIG Insurance Company;
JLT Specialty Limited;
Generali Employee Benefits - Vienna Office;
Insurance Company of the Pennsylvania State
PPF Insurance JSC;
Anadolu Sigorta A.S.;
Gras Savoye Turkey;
S.Y.Oh / TIB Korea;
In2Matrix Company Ltd;
CIS Risk Consultant Company.